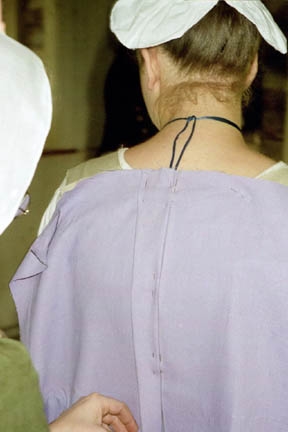 Specializing in custom French Colonial clothing hand finished to create more accurate reproduction garments.
---
Differences are seen between French and Anglo-American colonial dress.
"By 1760, all women now wore a jupon (skirt or petticoat) and the short jacket called a mantelet in New France though elsewhere a casaquin. Pehr Kalm comments on "short skirts which barely reach the middle of the calf." Franquet claimed that Canadian women preferred two-piece ensembles, and indeed less than a third of women's inventories list gowns. … About a third of rural women owned a jupe, yet less than a tenth of urban women did. Conversely, the gown [robe], not worn earlier and still a minority taste among women in general, had become identified with the urban woman, particularly among the commercial and professional strata, rather than with the rural, who clung to the jupon-jacket pairing."
The Material Atlantic: Clothing, Commerce, and Colonization in the Atlantic World, 1650-1800, Robert DuPlessis. Cambridge University Press, 2015, p. 217.
Please contact me to discuss your particular needs–how will the garment you choose fit in with your group's clothing
guidelines
–do you have special needs or desires? Let me recommend a source for fabric. Will a particular print be appropriate to your time frame? Is a stripe or a particular color a better choice?
All outer, visible stitching done by hand. All edges are machine overcast, clean finished or enclosed in French seams. Linings are cotton or linen. Choice of outer fabric & trims supplied by customer—all linings, interlinings, thread and other notions additional at cost.
Terms and Ordering Information
Contact me for hand finished garments.
Gallery of client garments
---