Taking Measurements
---
Please have someone measure you while wearing a well-fitting bra in a snug T-shirt or leotard/leggings. You must be measured over stays if ordering gowns or fitted jackets [pet-en-lairs, juste au corps, demi-robes, casaques or full robes, battante and robe à la française]. If you will be wearing other underpinnings such as panniers, measure carefully from the side waist over panniers and down to finished length of hem you desire.
At this point, please have pictures taken of yourself, either in jpegs or snapshot, showing full length and side view in the garments in which you were measured. As I will be «fitting» you virtually, these two images are critical.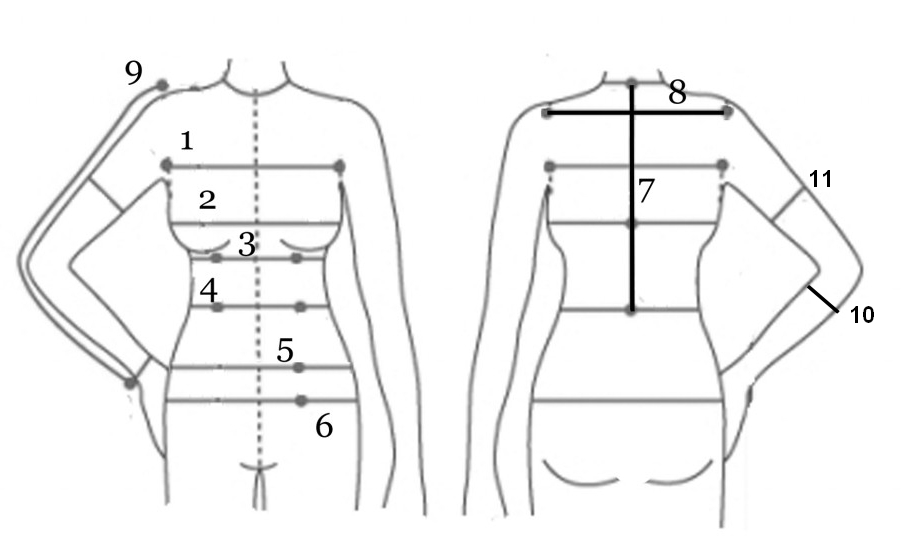 Upper chest
Bust
Under bust or midriff
Waist
Upper hip
Lower hip
Back length [nape to waist]
Back width
Arm length
Forearm [make a fist]
Biceps [make a fist and bend arm]
Side waist to hem of petticoat*
Back nape to ankles for robe*
*Please measure [over panniers, if using] from side waist to length of desired hem for petticoats [12] and from nape to ankles [13] for robe/gown length.

Please include this list of all of your measurements [1-13] plus full front and side view snapshots [if mailing] or jpegs [if submiting online via email] as your measurements were taken when placing your order.
Terms and Ordering Information
---