Price List
---
Clicking on images will enlarge the item.

Bed jacket or Manteau-de-lit based on Garsault. $75.00 labor plus materials and shipping. Choice of cuff style, pleated or sloped sides. Can be lined or unlined. Length varies. "The sleeves are cut en chemise, that is, in one with the body; the squares cut from the sides of the gown are added to the sleeves to give extra length. It has an inverted pleat center back. The front has an extra piece on top which is formed into a pleat and folded to fit the neck. An inverted pleat is set each side of the waist."*

Jupon, jupe, petticoat. $35.00 labor plus materials and shipping. Waist ties can be tied on sides; or from back to front and front around the back and returning to front. Second option results in a tighter fitting and less slipping mode of wearing. Ease in waist is achieved by allowing a wider space to show on side where pockets are accessed. Hems are

ferreted.

Juste, jacket. $135.00 labor plus materials and shipping. "Sides are sewn down to the waist only, and then are left open to form basques. The sleeves are either plain to the elbow or tied with a ribbon. The jacket is lined and the edges bound with ribbon; it fastens in front with ribbon ties."* La Fleur de Lyse's mantelet comes the closest to Waugh's description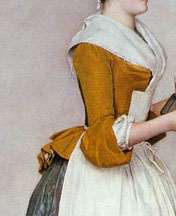 Affectionately known as The Chocolate Girl's jacket or casaquin. $150.00 labor plus materials and shipping. This jacket is seen with many style variations. It is basically the juste with godets, tight fitting sleeves with and without cuffs and various stomacher closings and lacings.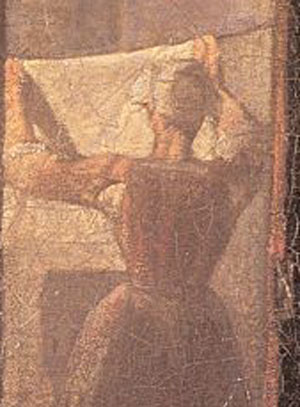 Corset Blanc, jumps. $150.00 labor plus materials and shipping. Tied-on sleeves, $20.00 labor plus materials. "This is usually made in white linen and lined; it is only boned each side of the centre front. The centre back can be sewn together, or open and laced. The fronts can be laced, buttoned, or tied with ribbon ties. The sleeve «O» tied with ribbon ties. The sleeve may either be sewn in, or just laced on top of the shoulder."* Corsets/jumps are constructed/quilted with two layers of linen, one of which is the lining, and a stiffening layer. The outer fabric of the corset is applied and all layers are bound with ribbon or taped edges. This garment can function as a stays coverup, a light foundation, or with sleeves tied on, can be considered undress wear for public viewing.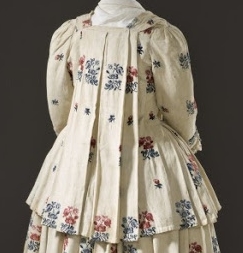 Pet-en-l'air. $200.00 labor plus materials and shipping. A shorter version of the robe à la française, cut to knee level, was called the casaquin, and after 1740, the pet-en-l'air.* Pet-en-l'air is constructed over an adjustable bodice and includes a simple stomacher of matching or contrasting material.
*The Cut of Women's Clothes: 1600-1930 by Norah Waugh
Terms and Ordering Information
---